22 Nov 2020
3 Reasons Why Age Diversity Benefits Your Business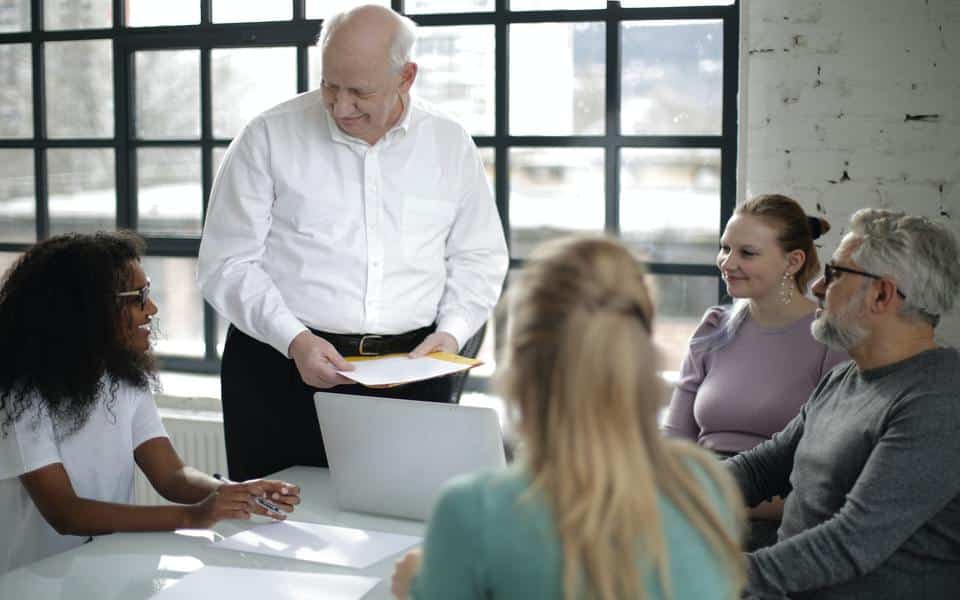 Companies that practice age diversity in the workplace benefit from dynamic, multi-generational workforces with a diversity of skills.
Diversity in the workplace has become an increasingly prevalent conversation within recruitment circles. Many companies are realising that fostering racial, gender, and educational diversity within the workforce can have many surprising benefits. While there have been definite leaps in inclusion in the workplace, there is one aspect which is often overlooked—age diversity.
As life expectancy continues to rise across the world, more and more people are working later in life. Despite this growing segment of senior workers, statistics continue to show that workforces are getting younger. A report by Ernst & Young has indicated that by 2025, 75% of the global workforce will be comprised of millennials.
The prevailing (if unsaid) sentiment is that older employees can't contribute as much as younger generations, especially as more businesses are migrating online. Millennials and Gen Zers are seen to be more tech savvy and fluent in digital business models. This mindset is resulting in many older workers being passed over for job positions in favour of younger, less-experienced workers. However, this ageist bias is causing companies to lose out on key competencies and resources within their workforce.
Here are three important reasons why it's high-time to redress age balance in the workplace.

1. Reduces turnover rates
One of the major drawbacks of a hiring strategy that focuses solely on young recruits is that such companies often experience higher employee turnover. High turnover rates have many negative impacts on a business. Moral in the workplace tends to turn low as more employees see colleagues leaving and being replaced. Vital knowledge pools are lost. More time, money, and energy needs to be invested in new recruits to bring them up to speed with the business.
A study issued by the Bureau of Labor Statistics in the US has shown that workers aged between 25 and 34 have a median tenure of only 2.9 years. On the other hand, workers in an elder age bracket have a median of 9.3 years. Older workers tend to have families to support, financial obligations, or stronger reasons to want to continue working. Younger generations are still searching for ideal work-life situations and are more open to drastic changes in their life, which may see them return to education or emigrate to a new country.
Reducing turnover increases the reliability and stability of your workforce. Moreover, older workers tend to have less absenteeism and better interpersonal skills, which make them great role models for younger employees to follow.
2. Improves problem solving
Having a multi-generational workforce is useful when it comes to solving business challenges and finding new ways to possible solutions. Each generation has its own approach to problem solving. Studies have found that significantly diversifying the age of employees leads to a larger knowledge base with more diverse experiences. This can affect the performance of the entire organisation as it increases its ability to handle different roles and tasks.
Furthermore, many businesses tend to overlook the fact that they sell their services and products to different demographics, including older generations. Who better to consult on how to market your business to older generations, than your loyal employees who already fall within this age-set? They'll be able to offer greater insight couched in the right business mindset to help you reach this target audience. It's a win-win situation for both the business and your employee, who'll feel a sense of satisfaction in being able to offer first-hand insight that younger employees simply can't.

3. Increases engagement through reciprocal mentoring
It would be remiss to suggest that younger generations have less to offer a business than older employees. Younger generations are digital natives and can speak tech in ways older generations simply can't. So there is plenty that older generations can learn from younger recruits. The reverse is also true.
Older generations have years of work experience and know-how, which they can share with their younger colleagues. While people can pick things up as they go along, it's much more beneficial to learn from experienced workers who have already put in the hours, made the mistakes, and are aware of the pitfalls to look out for along the road. It's this quality of knowledge that can help younger employees hone their skills and intuition to fully realise their potential as the business leaders of tomorrow.
The beauty of a multi-generational workplace is that it enables companies to implement reciprocal mentoring programs. Through these programs, different generations can help each other learn new skills and ideas. This creates a more creative, engaging work environment. Mentoring programs are also useful to retain promising talent and attract younger employees who are looking for ongoing development at work. Age-diverse mentoring programs are proving increasingly popular, with over 70% of Fortune 500 companies implementing mentoring programs to increase their employees' growth and improve the overall success of their organisation.
Exacta Solutions can help your company implement best practice strategies to age diverse recruiting that will benefit your business in the short- and long-term. Contact us today for all your professional recruitment needs.