04 May 2022
5 Irrefutable Reasons Why The Office Isn't Dead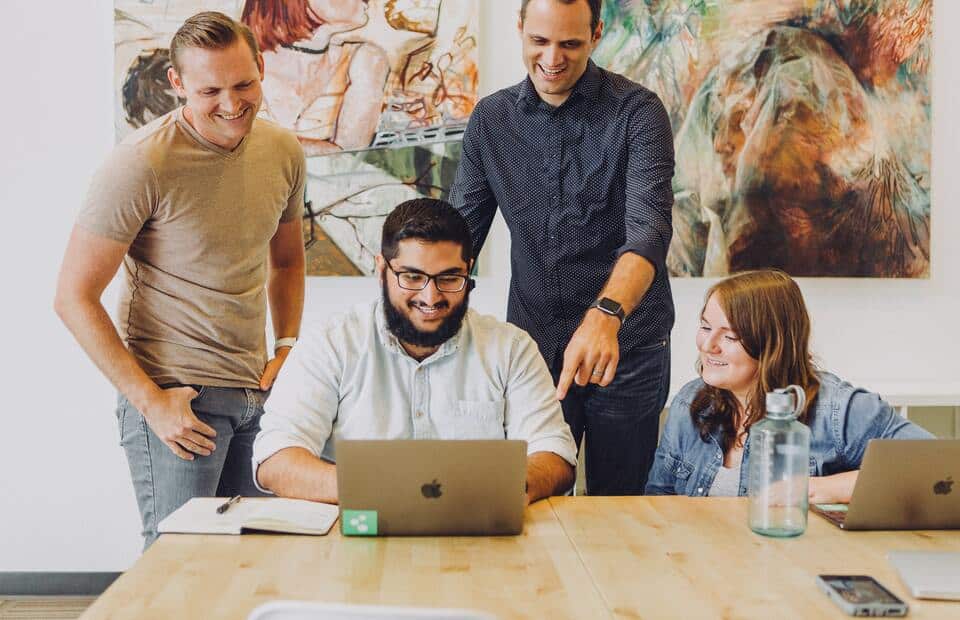 The office plays an integral part in our social lives and work-life balance.
By now, everyone is aware of how drastically work has changed in light of the pandemic. In the wake of work from home possibilities, many were quick to consign the office to the bin.
But offices are far from dead. If anything, the pandemic has forced many employees who spent an extended amount of time working in isolation to realise how integral the office is to their lives and overall happiness levels. It's also inspired many companies to find new and creative ways to make the workplace more inviting and inspiring for employees.
Here are some of the key benefits of how a positive office environment can truly benefit employees.
1 – Offices help us maintain a healthy work-life balance
While working from home certainly offers certain freedoms, the reality is that maintaining a healthy work-life balance from home is not easy. First of all, most people share their home with family or friends, which may cause unwanted interruptions at times when you need to concentrate the most. Furthermore, most people simply do not have the appropriate space to dedicate to a home office. This means, they end up working in rooms designed for resting and relaxation, like the living room or bedroom, which can make it hard for them to entirely disengage from work when they need to unwind.
Spending a dedicated number of hours working from an office makes it easier to compartmentalise life and work, giving employees the opportunity to focus on each more fully. This makes it possible to slip into a work mindset as soon as you step into the office, meaning you're more likely to be productive. Conversely, once the day ends, it's easier to leave work behind and enjoy your free time.
2 – Offices provide the right tools & amenities to get the job done
To do a job, employees must have all the tools they need to do it efficiently and well. In some cases, these may simply be a comfortable office chair, a proper desk, and a quiet office space. But there's all the other tech and reliable online access to systems that help make a job easier. A physical office ensures everyone has equal working conditions. All these factors contribute to a professional work environment suited to productivity.
It can be incredibly frustrating to work without the proper equipment to get the job done. Furthermore, many studies have found that unsuitable home office set-ups, with inappropriate chairs and makeshift desks, can lead to chronic health issues, such as pain caused from bad posture. At the office, it's the employer's obligation to provide a comfortable and safe workplace for their people at their own expense.
3 – Offices are integral to our social lives
While switching to videoconferencing platforms might be convenient, they are also a recipe for loneliness. That's because the workplace is an integral part of our social lives. When we're young, our friendships are formed at school and university. Later on, it's our office environments that provide us with opportunities to meet new people and make connections. Spontaneous interactions at work are integral to our sense of belonging. What's more, in some cases, simple work relationships gradually turn into genuine friendships over time.
At the height of the pandemic, when most people were working from home, feelings of loneliness and isolation quickly became a recurring problem among many adults. In fact, reports in the UK have indicated that 41% of polled workers admitted to severe feelings of anxiousness and isolation since working from home began, explaining that they were missing out on office conversation and feeling unable to communicate properly via video and calls. Additionally, according to a LinkedIn study, 46% of working professionals stated that their work friends are essential to their overall happiness. For these workers, and countless others, a return to the office was welcomed with relief.
4 – Offices reduce burnout
While remote working certainly saw productivity rates of many workers go through the roof, the truth is that the longer employees work solely from home, the more likely they are to experience severe burnout. Here again, we see the effects of how working exclusively from home can upset a healthy work-life balance.
Furthermore, remote teams tend to be restricted by videoconferencing calls and online chats. The major downside of this is it requires every work interaction to be scheduled and planned. But the true potential and productivity of a team is often sparked by more elusive factors, such as the spontaneous idea that might arise from a casual conversation over a coffee, or informal spitballing that could make for an inspired marketing campaign. These types of workplace interactions help employees feed off each other's energy and ideas to generate more united productivity levels. This is something that simply cannot be replicated remotely.
5 – Offices build stronger teams & a better company culture
There have been many studies that have shown how a company's culture has a positive impact on business growth, teambuilding, employee retention, and idea generation. But creating a company culture is only possible through a physical office that allows colleagues to work together, interact, and collaborate. In this sense, the office is also crucial to onboarding new recruits, who will learn a lot from simply being around and immersing themselves in the workplace environment—the people, the way things are done, the spirit of the organisation.
In fact, following an extended period of remote working due to the pandemic, many companies have come to realise just how important a positive work culture is to their people. That's why, since social distancing measures have eased, many employers have stepped up their efforts to improve their company culture through organising even more teambuilding events, opportunities for teams to unwind and have fun together at the office, as well as holiday and leisure experiences organised on behalf of the company for everyone to enjoy. All in all, since the pandemic the office is only continuing to evolve to better meet the expectations of today's job candidates.
Do you want to work in a truly inspired office that makes you look forward to going to work each day? Exacta Solutions recruits for a wide range of leading iGaming, FinTech, and IT companies in Malta and around the world. See our OPEN VACANCIES and send us your CV today.