14 Jul 2022
How To Answer "Where Do You See Yourself in 5 Years" – Drilling Down Into The Job Interview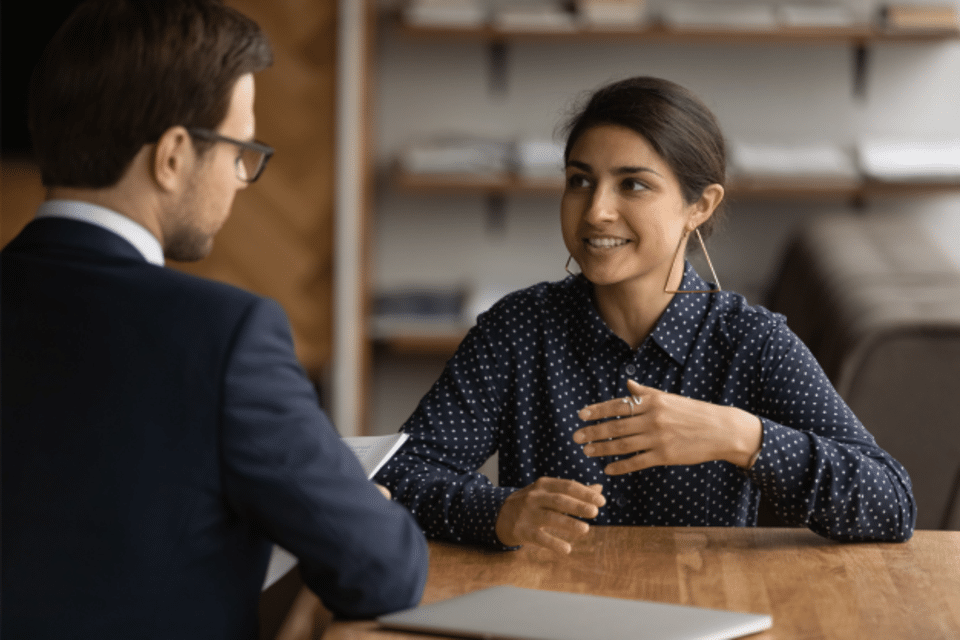 In this ongoing series, we investigate common job interview questions and provide tips on how to craft compelling answers.
It's asked in almost every job interview and is arguably the question that stumps interviewees the most. The "Where do you see yourself in 5 years?" question can be a tricky one to navigate. After all, most job candidates are primarily focused on the next immediate step in their career. So, how do you go about planning for an unknown future while trying to convince a recruiter you're right for the job?
The truth is, while it may seem like something of an impossible question to tackle, with the right amount of consideration and preparation you can easily provide recruiters with a persuasive, insightful, and enthusiastic answer that's set to impress.
In this article, we delve into the intention behind this dreaded interview question and explore best-practice tips to craft an effective response.
Why do interviewers ask this question?
In essence, interviewers will ask this question to see if your short- and long-term goals align with theirs. Employers invest a lot of resources into hiring and onboarding the right talent for their company. They need to feel confident that their chosen candidate is going to stick around long enough to make a valuable impact within the role.
Having a clear understanding of where a candidate sees themselves in a few years' time really helps recruiters determine whether the job and candidate are a good match. Essentially, they are trying to figure out whether you're willing to stick around or are just looking for a stop-over job, while you search for your forever career.
The question also sheds light on how seriously you've thought about your career path. If you're able to provide a coherent answer that shows how you're aiming to make a logical progression towards a more senior role, this will indicate that you understand your industry and the steps you'll need to take to advance in your career. All in all, recruiters are more likely to hire a candidate with a clear direction of where they're heading over someone who's simply floating aimlessly from job to job.
5 tips to answer "Where do you see yourself in 5 years"
Naturally, most candidates are wise enough to provide an answer that tallies with the job they're applying for. You wouldn't walk into an interview for a marketing job and then say you're hoping to become a full-time scuba diving instructor in the next few years. Why would a recruiter bother hiring you if that were the case? They need to know that you're going to be motivated to succeed.
That said, it isn't good enough to tell a boldfaced lie just to hide your true ambitions. Recruiters are experienced enough to know whether you're simply providing an answer they want to hear or whether you really mean what you're saying.
If you're truly committed to securing the role, and want to provide a compelling response, here are 5 top tips to answer this tricky job interview question.
1 – Envision your ultimate career goals
The best prep you can do for this question is to actually sit down and think about your long-term career goals. What would your dream role look like? What type of company and industry do you wish to work in? What sort of experience and skills do you need to gain to get there? All this information will help you plot out a feasible career path that feels authentic to you.
One key tip is to find someone more experienced than you who is already occupying your dream job. A simple look into their LinkedIn profile or professional bio might reveal a lot about the types of jobs and training that were pivotal to their success. You could also try reaching out to them for advice, especially if you're at the start of your career. They might be willing to offer some hard-earned insight, point you in the right direction, and help you make a clearer decision of what it is you wish to achieve in your professional life.
2 – Tailor your answer to the role
Once you've figured out your ideal career path, it's time to understand how the role you're applying for fits into this plan. Consider how your current skills and experience make you a right fit for the role. But also think about how the role will help you advance in your career.
A great bit of advice is to look into a company's careers website. Check whether they offer benefits such as further education and training for employees, career progression opportunities, or mentorship programmes. Also look out for testimonials from employees who have already risen through the ranks. Having these facts at hand will add a lot of weight to your answer. By showing a recruiter that you're keen to take on this specific role because you're confident that it will help you progress further, they're more likely to see you as someone who'll be motivated to build a career with their company.
3 – Don't be overly specific
Another important guideline when answering this question is to paint a compelling narrative that isn't fixated with overly specific job titles or responsibilities. The goal here to demonstrate you understand the various routes you can take to progress, not to attempt to steamroll your way into a position, come rain or shine.
This may seem counterintuitive, but in actual fact it ensures you don't end up boxing yourself into a corner. After all, if you're adamant that you want to hold a specific managerial title, recruiters may feel you're simply trying to move in on someone's job. This could potentially cause tension within the team should you be hired and will be a red flag to employers. That's why it's always recommended to demonstrate your intention to succeed through the overall direction you're working towards, while being flexible on the specifics.
4 – Be realistic
It's also essential to be realistic in your answer. Be sure to speak about goals that can be accomplished within five years. Ambition is all well and good, but if you start talking about far-fetched plans it will make you seem naïve, and possibly arrogant.
For example, if you're an entry-level candidate, it's unlikely that you'll reach a senior management role in this space of time. So, focus on logical career milestones instead. Speak about how you're working towards taking on more responsibility, such as overseeing certain types of projects on your own, or gaining greater experience within different fields.
5 – Identify the skills and experience you wish to gain
This question is also designed to reveal how self-aware you are of your current abilities and competencies. It's important to show that you understand there are more skills you need to learn, more essential experience you need to gain, before you can take on a role of greater responsibility.
List the specific skills and areas of knowledge you feel the position will help you develop. You should also express your confidence in this job and this company to help you learn more in your field. For one, it will re-emphasize your motivation to evolve in your role. Furthermore, it will get the recruiter thinking about you as a long-term investment.
For more insightful tips on how to approach your next interview, be sure to check out our extensive guides and articles in our Candidates Resources.