20 May 2022
The Complete Guide To iGaming Jobs & Salaries: Tech Roles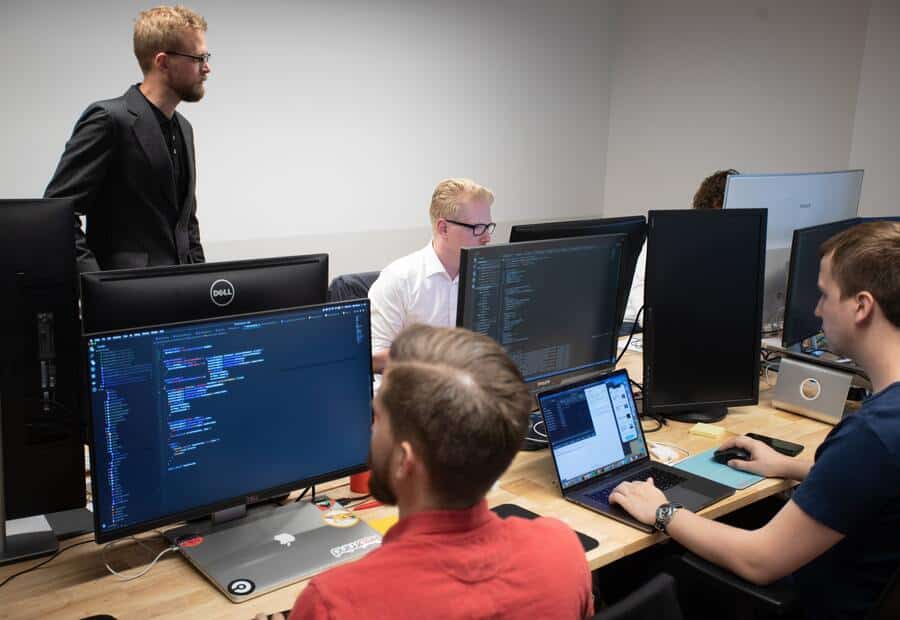 Discover the responsibilities, roles, and average salaries of the most in-demand iGaming tech jobs.
Technology departments are fundamental to the success of any iGaming company. Not only do they shape the services, games, and products, which clients experience through online casino and sportsbook offerings, tech departments are also responsible for all the company's in-house systems and need to ensure that everything from data security, cloud systems, and a whole range of other operations are working optimally in line with current IT trends. iGaming IT departments are comprised of many specialist personnel who collectively work to strengthen the company's products and services.
This month we're diving into today's most in-demand tech roles within the industry. We'll also reveal the current trends that are fuelling competition among employers to attract the best IT talent, which is resulting in tech salaries soaring to unprecedented levels.
All figures provided within this article are indicative and are based on industry insights at the time of publishing. Salary figures can vary drastically depending on a range of factors, such as the individual experience of candidates, the country where the employer is based, and other circumstances as explored further below.
The Most In-Demand iGaming Tech Roles
Front-End Developer
Front-end developers oversee all the aspects of online services and systems that clients experience through their browsers or mobile apps. As such, they are responsible for the look, feel, and design of online casinos and sportsbooks. Whether being accessed through a website or on mobile devices, they ensure the online experience is running optimally and is providing an intuitive and engaging experience for clients to enjoy. iGaming companies will typically require front-end developers to be fluent in a range of programming languages, such as Javascript, CSS, and HTML.
Back-End Developer
In essence, back-end developers handle and maintain all the aspects of websites and online services that the user doesn't see. They build code that ensures all the operator's databases, servers, and online applications are effectively communicating with one another to offer a seamless experience for the user. Among their responsibilities are implementing new features and resolving any bugs. More senior level back-end developers will also be required to offer guidance on the best technologies and software architecture that can help improve operations for their employer. As such, they are usually required to assist with product and platform development alongside other tech-related teams, such as DevOps. Common programming languages required for a back-end developer job include Java, PHP, JavaScript, and Python.
DevOps Engineers
The DevOps department acts as a bridge between development and operations. They need to require a generalist knowledge on a wide range of IT related fields, including infrastructure, coding, system administration, security, and software toolchains. The Head of DevOps oversees deployment and management of systems and hardware across the entire organisation. They need to take a proactive role to find better solutions to tackle various IT-related tasks. As such, they need to be excellent collaborators to ensure there is minimal disruption and confusion when changes are being implemented and new systems installed.
What are the average salaries for tech roles in the iGaming industry?
Tech candidates are constantly in high demand in the iGaming industry. However, actual supply of highly skilled talent is extremely low, and many employers are cognisant that there is a global shortage of tech candidates. This has caused significant shifts in how tech candidates are being recruited and the benefits they are offered.
As supply of local talent in many top iGaming hubs, including Malta, is low, many iGaming companies are casting their nets wider to attract the best candidates from the international scene, with many employers even choosing to recruit from outside the jurisdictions they operate in. This is placing a lot of power within the candidates' hands, with two major trends emerging in the process.
Firstly, a lot of tech roles have shifted to a remote basis. This is allowing iGaming companies to attract a better quality of candidate, without having to convince candidates to relocate to a new country. This way, tech candidates can enjoy the flexibility of working remotely within their country of residence. Furthermore, such candidates are likely to secure highly attractive salaries that in many cases would vastly exceed average salaries offered in their respective country.
Another major trend is that some iGaming companies are even happy to take on senior tech candidates as independent contractors. In this scenario, the tech professional will offer their services on a freelance basis, for which they are paid on an hourly rate. Here again, contractors will likely work on a remote basis and can work from outside the official jurisdiction the company operates in. Moreover, because of high demand, standard hourly rates in tech fields are steadily soaring, meaning tech candidates can look to make significant earnings on a purely contractual basis.
The downside of working on a contractual basis is that tech candidates miss out on the many benefits that their fellow in-house employees are offered, such as yearly bonuses, promotion opportunities, health insurance, paid sick leave, vacation leave, etc. Because of these reasons, there has been a recent spike in tech candidates looking to join iGaming companies on a permanent basis as it offers them better security in the long run.
Given the current climate, tech candidates can typically expect to receive salary offers within the following brackets. Because there are a broad range of factors that determine salary packages, including the country where the employer is based, we are only focusing on average salaries for senior candidates among iGaming companies based in Malta.

All figures provided are entirely indicative of industry trends at time of publishing and are not a guarantee of what candidates are to expect when applying for a job.
Are you looking for a tech job in iGaming?
At Exacta Solutions, we recruit for leading iGaming brands operating in Malta and many other popular global territories. Explore our open tech roles on our Vacancy page and apply today.