16 Mar 2022
The Complete Guide To iGaming Jobs & Salaries: Marketing Roles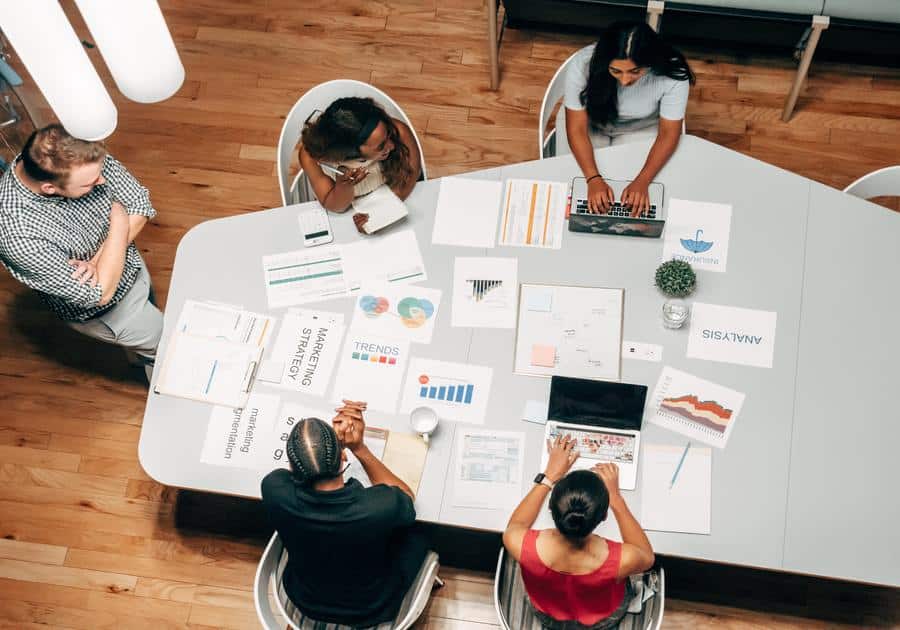 In this new series we'll be exploring the most popular iGaming jobs – the roles, the responsibilities, the average salaries. First up, we delve into the marketing department. 
In many ways, the marketing department is the face of an iGaming brand. Across its various specialist sub-teams, the marketing team as a whole is responsible for positioning an iGaming brand to connect with the right audiences in different global territories.
Since the rise of digital platforms, the marketing landscape continues to evolve at a fast pace to incorporate different skills, technologies, online tools, and marketing strategies. As such, today's marketing departments comprise a range of talent and skills, from purely creative employees who establish the look and feel of a brand, to those who focus on online outreach to drive more traffic towards the company's websites, services, and offers.
Here we look at some of the primary roles in an iGaming company's marketing department and the key skills required to be a success in the job. We also explore average salaries for various marketing jobs. All figures provided within this article are indicative and based on industry insights at the time of publishing. Naturally, salary figures can vary drastically depending on a range of factors which will also be explored below.
Types of iGaming Marketing Roles
Discover some of the most popular iGaming marketing roles commonly recruited for at all levels.
Marketing Manager – The marketing manager is responsible for overseeing the overall marketing strategy for an iGaming brand. They focus on the B2C side of things, helping the brand acquire and retain customers. As such, they'll need to a strike a balance between short- and long-term goals to ensure the brand is on course to grow at a healthy pace. As well as having a knack for creative thinking, a good marketing manager will also be budget-oriented and data-driven with an ability to analyse customer insights, consumer trends, and marketing best practices to build a formidable strategy that improves a brand's market reach.
SEO Specialist – Search Engine Optimisation (SEO) plays an integral role in helping a brand's website rank on Google and other online search engines. This is achieved through a mix of off-page and on-site SEO tactics to help drive increased visibility for all a brand's verticals. SEO trends change from year to year. That's why talented SEO specialists will need to be on top of all the latest SEO updates to create meta data, keyword research, and various types of optimised content to assist with customer conversions. SEO specialists are also required to monitor data and deliver in-depth traffic and conversion metrics to show the tangible effectiveness of a company's SEO strategy.
CRM Coordinators – Customer relationship management (CRM) combines software and practices for companies to manage and analyse customer lifecycles at every touchpoint. All in all, CRM coordinators are responsible for improving customer service relationships to drive retention and sales growth. This is typically achieved through an omni-channel, segmented approach that enables an iGaming brand to connect with customers on different platforms, whether it's through the website, social media, or online ads.
Affiliate Manager – Affiliate marketing continues to play a big role in the iGaming industry. Essentially, affiliate marketing is a process where a third-party website promotes the services of a brand in exchange for a commission for each customer sign-up they refer to the company. In an iGaming company, an affiliate marketing manager is responsible for building and developing relationships with affiliate partners. As such, they need to possess great networking skills and have an ability to identify talented affiliates who will be able to drive healthy traffic towards the company's sites and services. The affiliate manger will also ensure all marketing materials provided to the affiliate are up to date and within brand guidelines. Finally, they also keep on top of affiliate performances to optimise deals and campaigns accordingly.
What core skills do you need for iGaming marketing roles?
Candidates looking to take on a role within an iGaming marketing department should possess qualities such as:
Creative & out-of-the-box thinking
Communication & storytelling skills
Strategic planning skills
Knowledge of various digital marketing technologies, e.g. SEO, Google Analytics, Google Ads etc
Interest in consumer & product trends
A passion for creating engaging content (written, visual & video)
An eye for quality design
Understanding of online user experiences
Be on top of the latest social media platforms & trends
An understanding of pay-per-click (PPC) and social media advertising
Ability to oversee multiple projects
Solid understanding of gambling products and services
What are the average salaries for marketing roles in iGaming?
If you're applying for a marketing job, it's good to have a solid understanding of the average salaries going in the industry. There are various factors that ultimately contribute to a final salary offer. This could range from the size of the company and the team to the markets the company operates in and the skills and experience you can bring to the table.
Salaries also fluctuate from year to year, depending on current marketing trends. For example, at the moment, there is a high demand for candidates with SEO experience. With more and more new iGaming brands entering the scene, search engine ranking plays an important factor in helping companies outperform the competition to attract new customers to their sites. As such, SEO experts continue to be highly sought after in the current climate.
Another factor that is affecting marketing salaries is the US market. With more states across the US legalising online betting, more iGaming brands are looking to enter this giant market. Brands continue to seek candidates with in-depth knowledge of consumer trends in the US market. Here again, most companies are willing to pay premium salary packages for the right talent.
Current trends aside, candidates can typically expect to receive salary offers within the following brackets indicated below. Very senior positions refer to C-level or highly senior roles that require 4+ years of experience operating at this level. If candidates can show a proven track record of how they've tangibly helped a previous iGaming brand improve their marketing strategy, conversion rates, and retention rates, they are more likely to attract higher salary packages.

Please note that these figures are entirely indicative of industry trends at the time of publishing and are not a guarantee of what candidates are to expect when applying for a marketing job.
Are you looking for a marketing job in iGaming?
At Exacta Solutions, we recruit for leading iGaming brands operating in Malta and other leading global territories. Explore our open marketing roles on our Vacancy page and apply today.