03 Jun 2022
How To Start A Workplace Mentoring Programme In 6 Easy Steps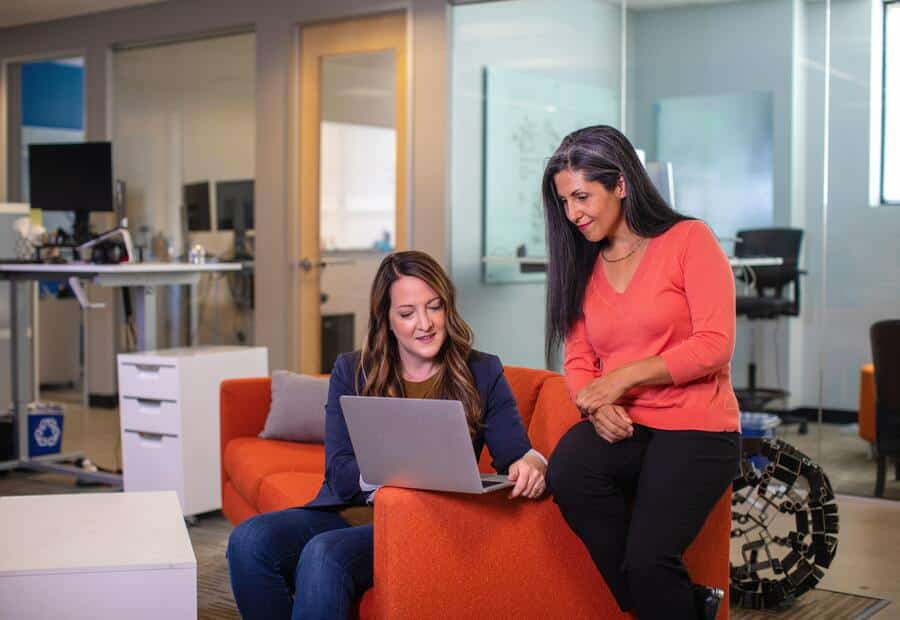 Mentoring programmes in the workplace are proven to cultivate a stronger company culture.
Mentoring at work is increasingly recognised as a powerful tool to help develop and retain your top talent. In essence, a mentoring programme gives employees the opportunity to receive one-on-one tutorship from a senior leader or expert within your organisation. The ultimate aim of mentoring is to train and inspire promising employees to take on roles of greater responsibility within the company. When implemented successfully, mentorship programmes have been shown to effectively increase retention rates.
Other key benefits of mentoring include increased knowledge transfer within your organisation, a greater sense of job satisfaction among employees, as well as the development of leadership skills which remain in line with the core values of your company culture.
Are you looking to introduce a mentoring programme at your workplace? Our handy guide provides all the essential steps you'll need to take in order to make it a success for your company and employees alike.
1 – Highlight the benefits of your mentorship programme
As obvious as it may sound, if you want your people to engage with your mentorship programme, then it's essential to really promote the fact that your company offers mentorship and career supervision. This information should be highlighted from the recruitment stage all the way to the onboarding process, and beyond. It's also important to make this information readily available to your employees, whether it's on your company website or the employee handbook. Provide your employees with all the information they need to better understand what the mentorship programme entails, how they can benefit from it, and how it has been designed with them in mind. If you've already run the programme in previous years and it's been a success, then be sure to include personal testimonials from employees who have found the experience to be fruitful to their advancement within your company. This is a sure-fire way to get more people excited about the possibilities of mentorship.
2 – Create an official application process
It's also crucial to have a formal application for the mentorship programme in place. How do employees actually enrol themselves into the programme? Is it simply a case of stating their interest with their manager, or do they need to submit an application form of some kind? You could also opt to make it an invitation-only process, thereby making it a more exclusive and sought-after opportunity. However you choose to approach it, information needs to be clear and readily available.
Furthermore, if you only have a limited number of mentorship places available every few months or year, make sure to explain the selection process to employees. What criteria will employees need to demonstrate in order to be eligible for the programme. Even if employees are not eligible, this will provide them with clear goals to work towards in order to be considered down the line. Ultimately, having guidelines in place will ensure that everyone is clued up on the essential details, which will help generate greater curiosity and interest among employees wishing to receive mentorship.
3 – Set out goals for each mentee
In order for a mentorship programme to be truly beneficial to your employees, it needs to be designed with their goals in mind. That's why it's essential for employees to have the opportunity to express their career goals: what it is they want to work towards, what training and skills do they wish learn? All this will help you find creative ways to use the mentorship programme to help your people reach their goals within context of your business. The more specific the goals, the more effective the programme will be. For example, if an employee expresses a desire to eventually lead a sales team of their own within your company, then it will be more possible to set out achievable tasks and training exercises to set them on the right path to accomplish this ambition.
4 – Match mentees with the right mentors
Another factor that will be crucial to the success of your mentorship programme is mentor and mentee matching. Rather than just assigning any employee to any mentor, give each the opportunity to participate in the selection process. You could also introduce a questionnaire that will help employees identify their ideal mentor, whether it's someone who has specific expertise, who was integral to helping the company achieve a particular milestone, or who has a unique leadership style they wish to emulate and learn from.
By having this information in hand, it will be easier to make successful mentor-mentee pairings. This is especially important as the pair will be spending a considerable amount of time working alongside one another. So, it's important that their personalities are compatible in order for the mentorship to be a positive experience for both.
5 – Provide a structure to the mentorship programme
Once the mentor and mentee have been matched, the actual mentorship programme begins in earnest. It's important to establish a clear structure on how the mentorship programme is meant to unfold. How many hours a week will be dedicated to mentorship? What format will each session take? Will employees be shadowing their mentor on the job, or is the mentor meant to be dedicating time out of their schedule to provide one-on-one guidance? Creating a clear structure to the programme will ensure things run smoothly and momentum continues over the subsequent weeks and months.
6 – Give mentees the opportunity to put new their skills into practice
Finally, once the mentee has completed the programme, provide them with the opportunity to put what they've learnt into practice. These can be small achievable projects and tasks that will help them boost their confidence. The more first-hand experience your mentorship employees gain, the more likely they'll be able to rise through the ranks of your company to take on roles of greater responsibility. This will also tangibly showcase how effective the mentorship programme can be, which will have a positive knock-on effect, enticing more employees to enrol for mentorship.
All in all, the more that employees can see the benefits of the programme take effect within your workplace, the more of a success it will prove to be. This will help your company instil employees with a greater sense of purpose and job satisfaction, which will result in higher retention rates and a stronger, more united workplace culture.
For the latest recruitment strategies, workplace insights, and salary trends, SUBSCRIBE to the Exacta Solutions newsletter today.