03 Sep 2021
8 Surprising Pros & Cons of Teamwork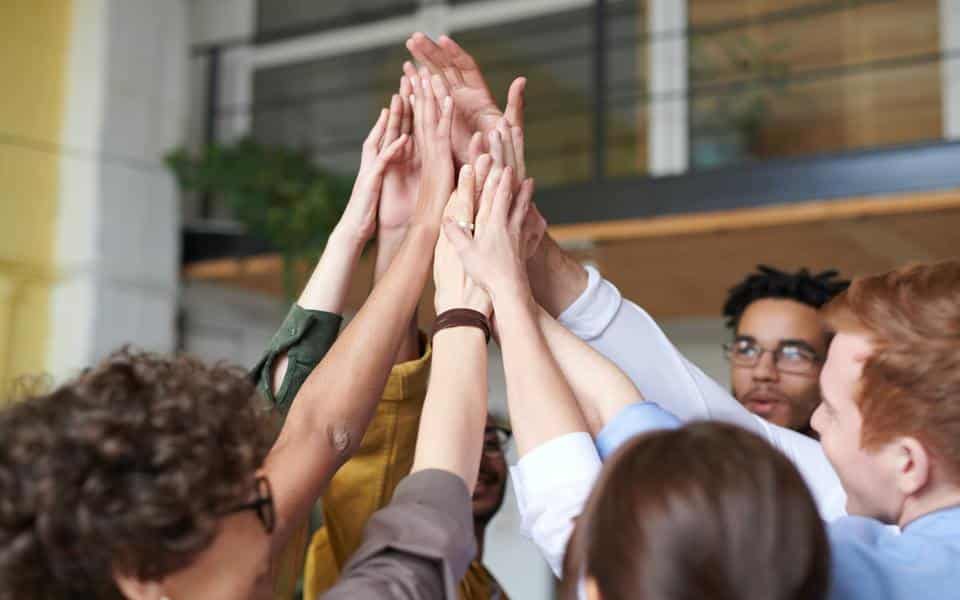 Great teams consolidate the strengths of their individuals to work more effectively towards a common objective.
It's one of the most commonly asked questions during job interviews: "Are you a team player or do you prefer to work alone?"
Naturally, most people tend to fall on one side of the spectrum. But while certain jobs will suit certain personality types better, the truth is that within a work environment it's important to be comfortable working both alone and within a team. There are likely to be instances where you'll need to buckle down and get on with a task unassisted, and times where you'll need to pool your ideas as part of a group to tackle a larger scale project together.
In this first part of our Teamwork vs Individual Work blog series, we will be considering the advantages and disadvantages of working within a team:
☑ Pro: Shared responsibility
Overseeing a major project at work can be a daunting task. You'll need to ensure everything goes to plan, that you're covering all bases, and that you achieve the right results. It can be incredibly stressful when you're juggling many tasks all at once, and if anything goes wrong management are only going to turn to you. Sharing responsibility with a team can relieve some of that stress and ensure there are more eyes on the ball. While some people relish complete control, working within a team can be highly rewarding when everyone is working together.
☒ Con: Not everyone pulling in same direction
One of the major drawbacks of teamwork is that sometimes, not everyone will pull in the same direction. Colleagues will have different opinions on how to do things or will seek to achieve different outcomes altogether. This will ultimately slow a project down and potentially derail it if there's enough to-ing and fro-ing. That's why it's important to agree on a clear set of objectives from the get-go. This will ensure that everyone is following a cohesive plan. And even if they disagree, there'll be no excuses to go off-piste.
☑ Pro: Effective problem solving
When working alone, you are limited to your own sets of skills and experience. Working within a team is a great way to inject more ideas and ways of thinking into a project. This is especially useful when you hit a snag. Having multiple viewpoints, will help everyone raise their game and attempt to think outside their own individual box, which will most definitely create a more effective and holistic solution to any potential problems.
☒ Con: Never-ending meetings
Anyone who has worked within a large team knows that meetings can eat up a large chunk of the working week. When you're in a team, everyone needs to come to agreement on the way forward. Any changes will not only need approval, but will also need to be communicated effectively among the team. This is usually achieved through everyone gathering to discuss the project in a meeting. However, if not handled efficiently with a clear agenda, meetings can drag on for hours and result in deadlines needing to be pushed back.
☑ Pro: Build stronger professional relationships
Successful companies are built on great teams, not just great individuals. Learning to work within a team is therefore essential to the greater good of the company. Teamwork also helps instil more tangible values in the company culture and gives space for colleagues to become friends with shared objectives, goals, and work ethics.
☒ Con: Potential for conflict
Naturally, within any team there are likely to be very different people, with different perspectives and different ways of doing things. This can be a strength; however, it can also give rise to conflict when disagreements break out on which ideas to focus on or how to resolve problems. When not addressed and resolved, conflicts can cause serious setbacks. Great teams are those who learn to work together despite their differences.
☑ Pro: Teamwork is a platform for quality leadership
In order for a team to be productive, it must be led by a quality leader. One of the great things about teamwork is that it's an opportunity for individuals to rise to the challenge of taking on more responsibility to organise and motivate the team. This is a great way to build and learn leadership qualities first-hand. Management is also likely to keep an eye on any team effort to see where potential leaders lie within their company for future promotions.
☒ Con: Team members seeking personal glory
On the flipside of this point, some individuals may be out to seek personal glory at the expense of everyone else in the team. This may lead to an individual trying to stand out by ignoring team efforts altogether to do their own thing. They may even go so far as to bypass the team completely to communicate their ideas and points directly with managers. In the end this will only lead to disruption and a breakdown in collective morale. It's important for any team to acknowledge individual achievements, whilst reminding everybody that there's more to gain through collaboration.
Are you a team player or a lone wolf? Find the ideal job that suits your personality on the Exacta Solutions vacancy page.