24 Nov 2022
Improve Your Time Management At Work With These 8 Essential Tips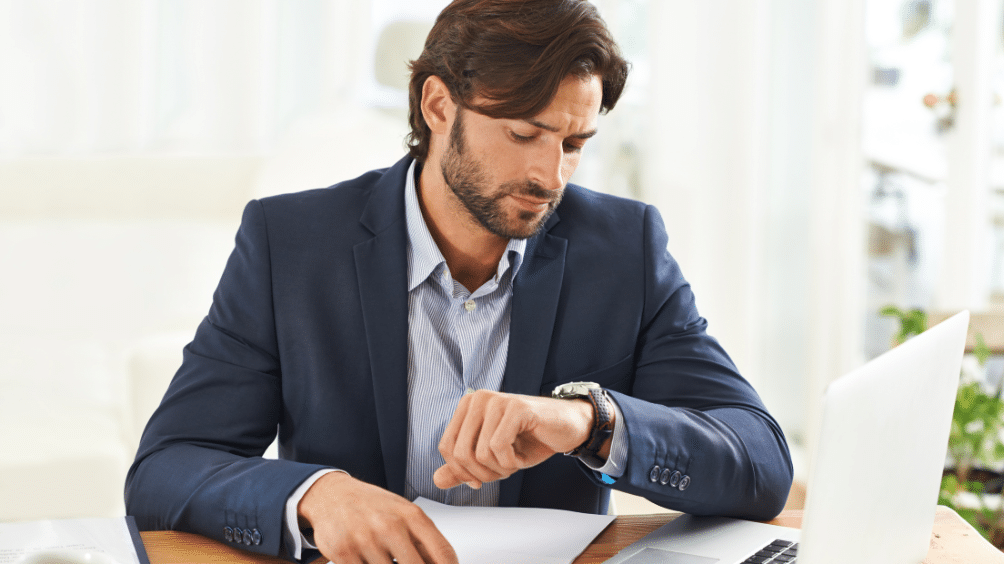 Get more done at work with these effective time management tips
Mastering your personal time management skills is the key to taking control of your day and being more productive at work. Within any job, it's easy for tasks and deadlines to pile up and get on top of you. This can quickly lead to unnecessary stress and a feeling of always being behind on your schedule and to-do lists.
By implementing a few simple but highly effective changes in your life, you can ensure that you'll remain in control of your work and maximise your productivity. Managing your time will also help you focus on the task at hand, improve the quality of your work, and ensure you're on the right path to achieving your goals.
1 – Get organised
First of all, the basics. An organised workspace can really do wonders for your productivity and efficiency at the office. Remove any clutter off your desk and keep everyday items, such as your go-to stationery and computer accessories, in easy to reach drawers or cupboards. The same applies to your documents, files, and email inbox. If necessary, spend a little time organising your computer drives or cloud folders in such a way that will enable you to find everything you need with minimal faff. Colour-coding email labels and categorising folders is another great trick to locate items easily.
2 – Stick with a daily schedule
As much as possible create daily schedules and stick to them. It may not always be possible to set out a standard schedule template week in, week out. But by the end of the working day, you should have a clear idea of the tasks and jobs you'll need to complete over the next day or so. So, before you head home—or switch off for the day if you're working remotely—do yourself a favour and list out those tasks, then schedule them in your calendar allotting each within a reasonable timeline. You should also factor in a few buffers should a meeting overrun, or a task prove to be extra time consuming. This will ensure your overall schedule remains intact.
3 – Eliminate distractions
It's happened to all of us. You start the day all pumped up to plough through a ton of tasks, then one news alert pops up on your phone or a colleague gets to chatting and suddenly, half the day is gone. Distractions are the bane of productivity. So, if you have any particular weaknesses, be it social media, text messages, or web browsing, get rid of them. If necessary, turn off your phone notifications until you've completed what you set out to do. You can always check them during your lunch break. There are also plenty of useful apps that limit access to distractions from your computer or phone. See what works for you to keep a clear and focussed mind throughout the day.
4 – Prioritise your work
When you're plotting your to-do list, mark each task with a priority level, which can range from not important, important but not urgent, to super urgent. Ensure you're tackling those tasks with imminent deadlines first and schedule in less urgent work for later. Prioritising your work is an ongoing process. Make it a habit to check your to-dos on a weekly basis, crossing off completed jobs and shifting tasks around depending on their urgency.
5 – Cross off those headache tasks ASAP
Within any job, there arise certain tasks or projects that start to hang over you like a dark cloud. Whether they're difficult or challenging, or even downright energy-draining, you begin to dread them and procrastinate to avoid doing the work they require. One popular piece of time management wisdom is the Eat The Frog method. This technique suggests that when there's a task you'd rather not be doing, make sure to cross it off your list first thing in the morning. This will ensure you're eliminating any obstacles, particularly internal ones, that are stopping you from being productive and bringing you closer to your goals.
6 – Group similar tasks together
Another effective time management tip is to group similar tasks together in your day. This will help you buckle down, get in the zone, and cross off a ton of work at one go. Whether it's replying to emails, making phone calls, or needing to schedule in social posts on several content calendars, schedule in a specific time to get these tasks done in one fell swoop. This will save you time and energy fitting in these smaller tasks in between projects that require your undivided focus and attention.
7 – Set your limits
There are only so many hours in the day and it's unrealistic to take on excessive workloads that simply cannot be achieved within one person's weekly schedule. At times, you need to be ready to set your limits and say no to focus on those more important tasks on your plate. Should a manager request an urgent job that's going to clash with another imminent deadline, be sure to point such conflicts out and discuss how best to prioritise the work. When possible, find solutions to delegate certain tasks to less busy members of the team. This can be a difficult skill to learn but it will work wonders for your personal time management in the long run.
8 – Schedule in breaks
It may sound antithetical to productivity, but breaks are absolutely essential to achieving better time management. Working non-stop from morning till evening will only cause fatigue and burn-out. What's more, research continues to suggest that allowing yourself time to unwind will improve productivity, memory, decision making, and reduce stress. So be sure to schedule in those vital breaks throughout your day. Take time to eat your lunch away from your desk. Head out for a short walk and fresh air. Enjoy some fun chit chat with colleagues over coffee in the canteen. You can even find a quiet place to fit in a short mid-day meditation. Whatever helps you relax, make it a part of your daily schedule.
For more insightful workplace tips and advice, SUBSCRIBE to the Exacta Solutions newsletter today.