01 Dec 2022
6 Practical Tips To Feel At Home In Your New Job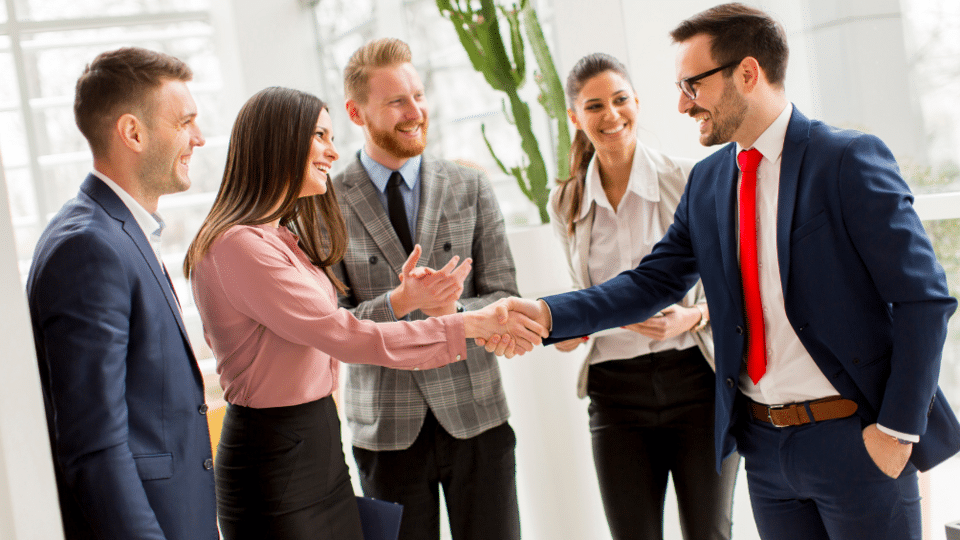 Settle into your new job successfully with these simple but effective tips.
Whether you're a new graduate or further along in your career, starting a new job can be a nerve-racking experience. Any new job brings with it new people, unfamiliar work processes and software systems, different team dynamics that you'll need to fit into, and many other unforeseen challenges. It's a lot to adjust to in those first few weeks, especially with the added pressure of wanting to make a good first impression.
It's good to know that most people experience new job jitters to some degree. By taking a few simple steps, you can better prepare yourself for starting a new position with as little anxiety as possible.
1 – Prepare as much as possible for your new job
The first few weeks at any new job can be overwhelming. Between familiarising yourself with the role, getting to know the team, and fitting into a new company culture, there's lots to figure out. So, if you're looking to quell some of that anxiety early doors, do your homework beforehand. Having already successfully completed the interview process, you'll undoubtedly be familiar with many aspects of your new company. But why not take things a step further by reaching out to your new manager in advance to inquire about anything you could prepare before starting the role. They may be able to pinpoint certain projects you can read up on or recommend a few skills that it'd be worthwhile to refresh. Any advance prep will help you ease into your new job more smoothly.
2 – Don't be afraid to ask for help
You're bound to have a ton of questions when you enter a new work environment. At times, you'll even find yourself stuck on the simplest of tasks—accessing files on a new laptop can be confusing enough when you're faced with an unknown system. No matter how banal a question may seem, do not be afraid to ask for help. First of all, it will save you a ton of time having to figure out everything on your own. More importantly, asking questions demonstrates that you genuinely want to get stuck in as quickly as possible. What's more, turning to a new colleague for help also opens up opportunities to spark conversations and acquaint yourself with different people in the office.
3 – Introduce yourself around the office
It can feel incredibly awkward when you walk into a room not knowing anyone. So, make an effort to break the ice by introducing yourself and getting to know different people around the office. That initial hello may feel embarrassing, but more often than not, you'll find people are only too happy to talk and get to know you. Plus, you never can tell who you might click with. That stranger may quickly become a go-to office buddy.
It might also be wise to take things one step further with teammates who you'll be working directly with. Find the right moment and take the initiative to get to know who they are and what their roles and responsibilities are. This will help you better understand how you'll be collaborating with different people in the office and who to turn to for specific information or requests.
4 – Personalise your workspace
It may seem trivial but personalising your workspace can reduce anxiety in a new office environment, especially during those first few weeks. By putting a personal spin to your desk set-up—maybe by bringing along your favourite coffee mug, a photo or two, and your very own stationery of choice—can do wonders to make you feel more at home in a new job. Plus, it's an opportunity to showcase something of your personality in the office.
5 – Level-set with your manager
During those first few days in a new role, it's important to schedule in a one-to-one with your manager to discuss expectations for the coming weeks and months. This is your opportunity to ask more in-depth questions about the work you should be prioritising, the tasks they want you to achieve, and any other ancillary details or projects they may want you to familiarise yourself with. Having a concrete plan in hand will ensure you'll have specific goals to aim for and save you from feeling lost and aimless. It will also help you find your footing in the team much quicker.
6 – Say yes to invitations
Finally, if you really want to feel at ease with your new team sooner rather than later, it's also a great idea to be open to invitations. You may not necessarily be in the mood for a few after-work drinks following a busy first week, but if an invitation from new colleagues pops up, try to embrace it wholeheartedly. The fact that they're extending an offer shows their willingness to help you fit in. Furthermore, these less formal, social settings are perfect for establishing stronger bonds with your team so that you can connect on a more personal level.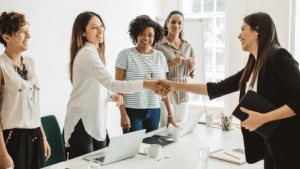 More quick tips to successfully ease into a new role
Overcome those new job jitters and start your new position with a positive mindset with these simple tips:
• Acknowledge that new job anxiety is a common experience for many people. So relax!
• Remind yourself that you were hired for the role for a good reason. So, you're more than capable of making a success out of it.
• Make an effort to take notes so that you don't forget any important details.
• Brush up on projects, skills, and tasks in your free time.
• Whether in the office, at lunch, or after work, take every opportunity to get to know members of the team.
For more insightful workplace tips, be sure to check out our extensive guides and articles in our Candidates Resources.