14 Sep 2023
The Hidden Benefits of Networking Events for Job Seekers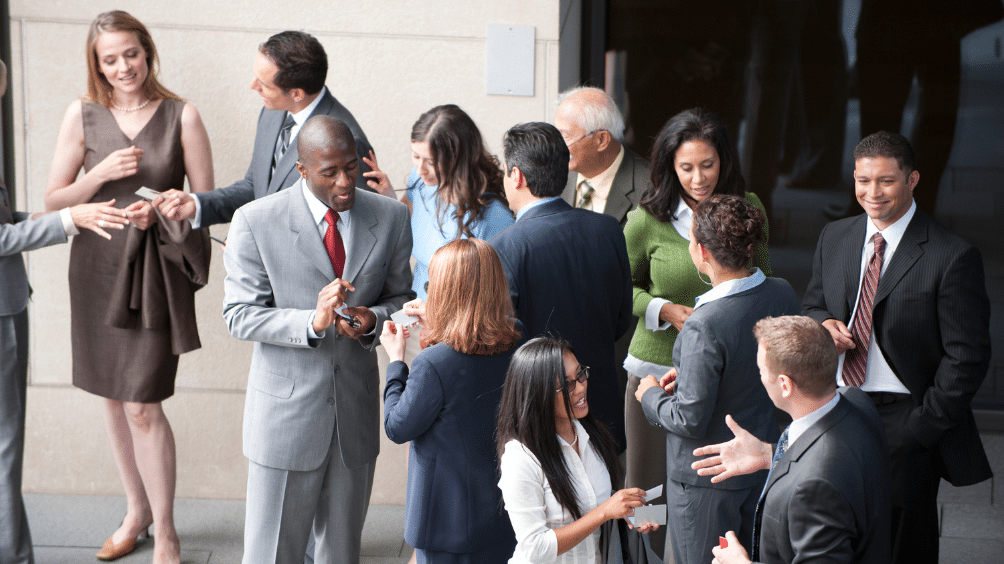 Embracing networking as a crucial part of your professional development is a sure-fire strategy to progress in your field.
Networking is widely regarded as a pivotal strategy for career advancement, yet surprisingly, many professionals still hesitate to attend networking events and expos. The thought of engaging with strangers and industry experts can seem daunting. But once you overcome that initial hesitation, you'll quickly realise that the benefits far outweigh any perceived negatives.
If you're thinking about attending a networking event but are unsure of its advantages, here we shed light on some key benefits that might just change your mind. From gaining industry insights to building valuable relationships, and even gaining access to new job opportunities, there are numerous reasons to embrace networking events as a vital part of your career journey.
1. Stay on top of your industry
Whatever your motivation for attending a networking event, you can expect to mingle with top professionals in your field. These events provide a unique opportunity to gain deeper insights into your industry's current state and future evolution. Moreover, you'll better understand the key players, brands, and companies at the industry's forefront, helping you identify who to learn from, emulate, or seek inspiration from. Engaging in these events will ultimately broaden your perspective and inspire new approaches in your career.
2. Make connections and build relationships
Networking events are more than just information hubs, they are a gateway to establish meaningful connections with industry leaders, ask questions, and introduce yourself. Additionally, these gatherings are perfect for meeting peers with similar career trajectories, sparking conversations that could lead to new business ventures or collaborative projects. Who knows? A few years down the line, you might find yourself showcasing your own company at a similar event. Seize these opportunities to make your mark on the industry and build relationships that could shape your future.
3. Practice pitching yourself through networking
Confidently selling yourself as a viable candidate is crucial for your career advancement. Networking events serve as great practical platforms to refine your interview technique, as you meet new people and continuously pitch yourself, your ideas, and your skills. It's a valuable opportunity to learn what resonates with professionals, what sparks their interest, and what doesn't. By practicing in this environment, you enhance your ability to stand out in your next interview. So treat these events as a training ground for self-presentation, and use the feedback to refine your approach until it's just right.
4. Expose yourself to new ideas and industry trends
Listening to keynote speakers and panels is another excellent way to get acquainted with the latest industry trends and insights. These events provide a glimpse into the evolving landscape of your field, helping you identify opportunities to build upon your skills, gain experience, and generate leads. By immersing yourself in these discussions, you'll stay one step ahead of many of your peers, armed with the knowledge to navigate new challenges and seize emerging opportunities. This will surely help you gain a competitive edge in your career.
5. Gain access to new job opportunities
Many companies leverage networking events and expos to recruit talent, making these gatherings a fantastic opportunity to access job openings early. By attending, you can potentially submit your resume or discuss potential roles with recruiters and hiring managers directly. Moreover, your presence at the event signals your passion for the industry and your drive to advance in your field. It's always a great idea to take advantage of these opportunities to showcase your enthusiasm and proactively engage with potential employers. Your initiative could make all the difference in securing your next all-important career move.
6. Spark your job motivation
Maintaining daily motivation at work can be challenging, but networking events offer a fresh perspective on your industry and will help you spark new ideas and inspiration. Surrounded by fellow professionals, it's almost impossible not to leave the event with a better idea on how to plan your next steps in your career. So let the energy of the room fuel your passion and drive you to explore new avenues and possibilities in your career.
Bonus Tip: Attending Your Next Networking Event?
If networking events are new for you, or if you feel you haven't fully tapped into their potential, it's time to reconsider your approach. Why not arm yourself with top tips to maximise your time at your next expo experience by exploring our handy guide here to transform your networking game.
For more career tips and tricks, check out Exacta Solutions' Candidate Resources today.