26 Oct 2020
How To Successfully Start A New Job Remotely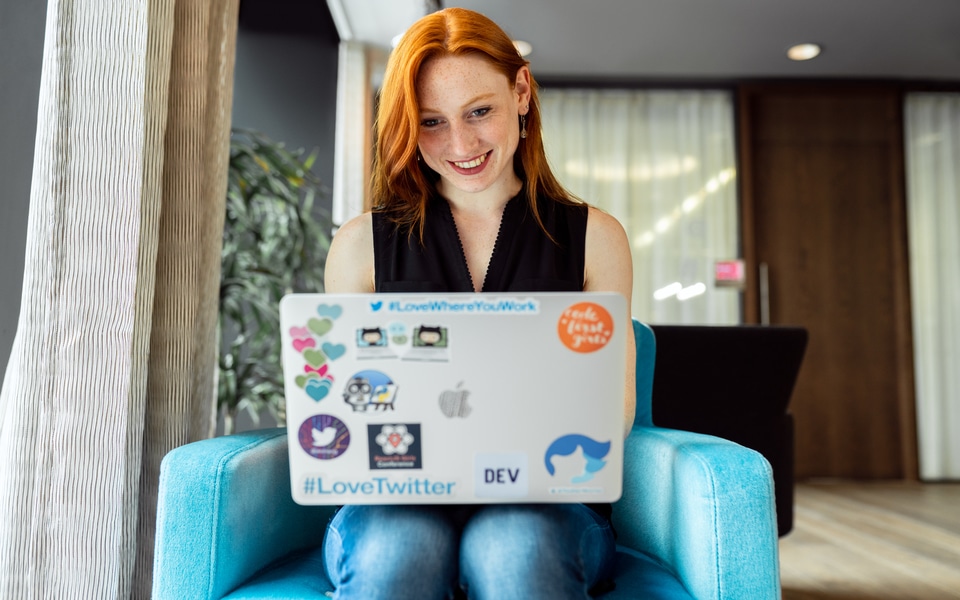 Starting a new job remotely has become the norm in many sectors since the outbreak of the pandemic.
You put in the hours polishing your CV. You breezed through the interview process. And after all that hard work, you got the news you were hoping for–the job is yours! The one slight niggle is that you'll be starting remotely, which is completely new to you.
Working from home certainly offers plenty of plusses–no commuting, more control over your schedule, more time with your family. However, it also creates its own set of unique challenges.
While there are a few companies that have years of experience with welcoming new employees virtually, most employers are still adapting to the online onboarding process. As such, finding your feet on those first days of a new job may prove a little stressful. It may even feel as if you have no one to turn to when you're in difficulty.
Even though you're working remotely, it's important to remember that your manager, teammates, and HR personnel are still there to guide you through the process. If you're looking to make a success of your first week working remotely, here are a few tips that will help you hit the ground running.

Set up your workspace
First off, let's get the practicalities out of the way. If this is your first time working from home, it's essential that you create the right work-life balance. As obvious as it may seem, the easiest way to do that is to keep your workspace as separate as possible from your home life. You may be excited about the prospect of waking up later than usual, dragging the laptop onto your bed, and working from under the quilt all day. Enticing as that sounds, you're soon going to realise that that setup isn't conducive to a productive day's work.
If possible, dedicate an area in your home exclusively for work. This will help put you in work-mode at the start of the day. Conversely, it also creates a mental boundary for when work is over. As soon as you leave your work zone, you can switch off and click into rest-mode.
Other practical tips include getting a desk and chair that will help you avoid hunching over your laptop. You'd be surprised by how fatigue-inducing bad posture is. A decent pair of earphones with a microphone are also a must. You're bound to be meeting a lot of new colleagues over video calls. Ensure you have good audio quality so that communication is clear.
Reach out to new teammates
Starting a new job involves a lot of getting to know colleagues, observing team dynamics, and absorbing the company culture. In an office, this is an organic process that happens between spontaneous chats, coffee breaks, and more formal meeting setups. It becomes increasingly difficult to find your feet when the entire onboarding process is conducted online, however. In these circumstances it's important to be a little more proactive due to the lack of face-to-face contact.
There are a few ways of going about this. Consider sending a quick hello email to announce yourself as the new person to everyone. Reach out to your colleagues over Skype to ask questions and show interest in their role, responsibilities, and projects they are working on. Set up regular video calls with managers or team leaders to keep them updated on your progress.
And remember, it doesn't all need to be about work. Don't be afraid to share a friendly joke on the group chat if it feels appropriate. Build meaningful relationships with colleagues outside of office hours to integrate better into the team.
Ask away
We've all heard it again and again: "When in doubt, feel free to ask any questions." That age-old adage applies tenfold when you're starting a job remotely. Maybe a task is unclear. Or perhaps one of the online systems is proving tricky to navigate. There's no reason to feel embarrassed or as if you need to solve every issue on your own. Get in touch with the team and ask them to guide you. People are usually happy to help.
Chances are that remote working will be a new experience for most offices. If so, your colleagues will have gone through similar challenges very recently and will be able to empathise. Asking questions is also key to showing your proactiveness and that you're endeavouring to learn as much as you can. Your managers will surely approve.
Master your communication tools
Slack, Trello, Teams, GoToMeeting, Zoom. These applications are likely to be an integral part of any new job at the moment, especially as they are designed to streamline workflow and communication processes, whether you're all sharing an office or not.
Check which online tools your team uses on a day-to-day basis and take a little time to familiarise yourself with their many features and functions. Group calendars, task priority settings, deadline alerts, and screen sharing tools will be ultra-useful to you and your colleagues to remain on top of all the tasks at hand. If you hit a snag, remember that the internet is your friend. There are plenty of video tutorials and training materials that will get you up to scratch in no time. Dedicating time on this during your first week will help you save time and avoid mishaps down the line.
For more job hunting advice, introductions and referrals, and even remote working guidance, be sure to contact the Exacta Solutions team today.