16 Apr 2021
The Benefits Of Working In An Office Environment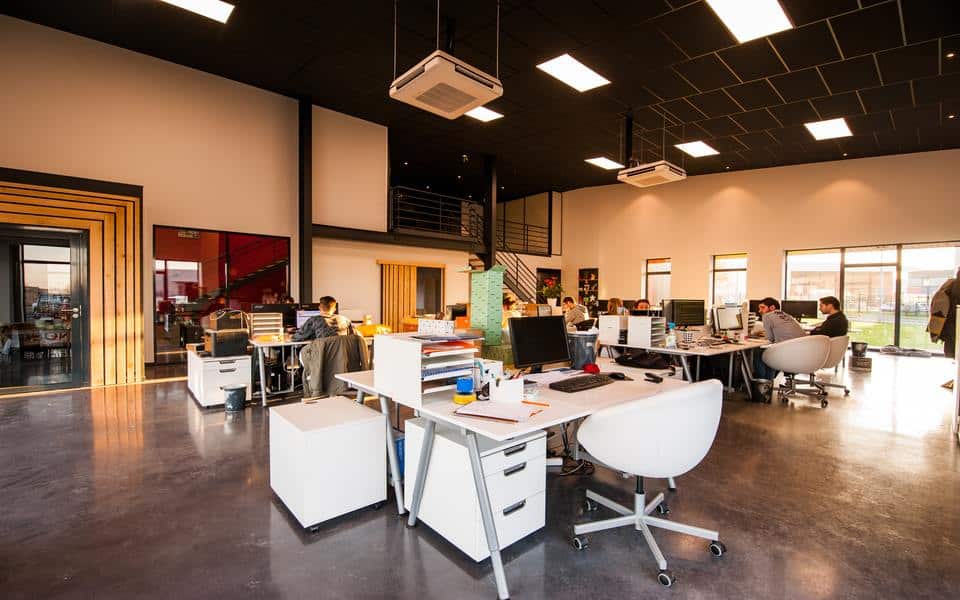 Offices have been an integral part of the working world for many decades and continue to offer a range of advantages to employees and employers alike.
Over the past year, a lot has been said about the virtues of remote working. And while many employees are calling for remote working to remain a permanent situation, there is still a compelling case to be made for why offices aren't going away any time soon.
It is easy to focus on the negative aspects of office life. But every situation has its pros and cons, and offices certainly have many positive qualities, which simply can't be replicated from home. Offices are designed to facilitate work flow, productivity, and business momentum. They also kindle a sense of community among colleagues and foster an identifiable company culture.
Here we explore some of the time-tested benefits that only dedicated offices and workspaces can offer.
Work-life balance
While working at home sounds like the dream, it can actually do more harm than good to work-life balance. Interestingly enough, the Institute for Employment Studies (IES) concluded that almost 50% of Work From Home employees are actually putting in longer and more irregular hours than they would do in an office. This is inevitably contributing to a negative work-life balance, where people are unable to switch off from work mode because they are living in the same space where they work.
The home should ideally be reserved for rest and relaxation. It becomes increasingly difficult to leave work behind when your office is also your home. Additionally, the many enticing distractions from around the house (the video game console, the TV, the kitchen full of snacks) become harder to ignore throughout the workday when you're meant to be getting on with your job.
Time management & routine
Not everyone gets excited by the idea of flexible hours and working at their own pace. Some people find they are much more productive in an office. Here, they can clock-in, put in their hours, and clock-out knowing they can leave work behind for the rest of their day.
As offices tend to operate on fixed hours, they encourage employees to enter a work mindset as soon as they step inside the building. And conversely, it makes it easier for them to enjoy a well-earned break once the day ends. Allocated hours for completing certain tasks also help maintain routine and punctuality, meaning that employees feel the need to deliver on their job consistently and efficiently throughout their working week.
Appropriate facilities & office tools
Anyone who has worked from home knows that it isn't always the most comfortable of working spaces. Not everyone has the room or resources to set up a dedicated office area in the home. DIY office desks and inappropriate chairs – or even working from the sofa or bed – are not only unsuitable for extended periods of time, they can also have an adverse effect on our health, resulting in increased neck and back pains from bad posture.
Well thought out offices are properly furnished and fully equipped with all the tech and tools employees need to carry out their jobs with ease From ergonomic office chairs to reliable broadband, space for multiple screens on your desk and access to high-quality scanners and printers—all this contributes to a professional environment ideal for work.
Stronger company culture
An often-overlooked advantage of an office is that they give companies a collective identity. By turning up at the office every day, employees are bound to feel more of a sense of belonging to the company culture. This sense of identity can easily be lost when the entire team is working remotely.
The office environment also makes it easier for individuals to integrate within the larger company. Offices give employees a better insight into the company—how they run, the various team structures, a sense of the key people who are the driving force behind the business. All these factors are greatly beneficial for those looking to build a long-term career with their company. This is something which is far more difficult to achieve when you only have contact with select colleagues over the internet.
Offices build team spirit
Unless a team has a pre-existing, established relationship, it is very difficult to create meaningful connections with colleagues in a virtual space only. Working physically alongside colleagues makes it easier to bond. It's also a much better way to form genuine friendships in the workplace.
Video calls have certainly helped teams remain in touch while working from home. But it takes much more to building a great team that achieves results than a few online exchanges to discuss work related tasks only. There are the morning catch-ups over coffee, shared lunch breaks, casual chats in the office, team building events. These in-person conversations and face-to-face connections are the only way to create a true team spirit that encourages collaboration.
Whether you're looking for a dream office job or remote working opportunities, Exacta Solutions can help you find your ideal role in iGaming, FinTech, and IT. Browse our open vacancies and get in touch with us today to discuss your next career move.