07 Jul 2021
5 Top Tips To Attract & Retain Top Talent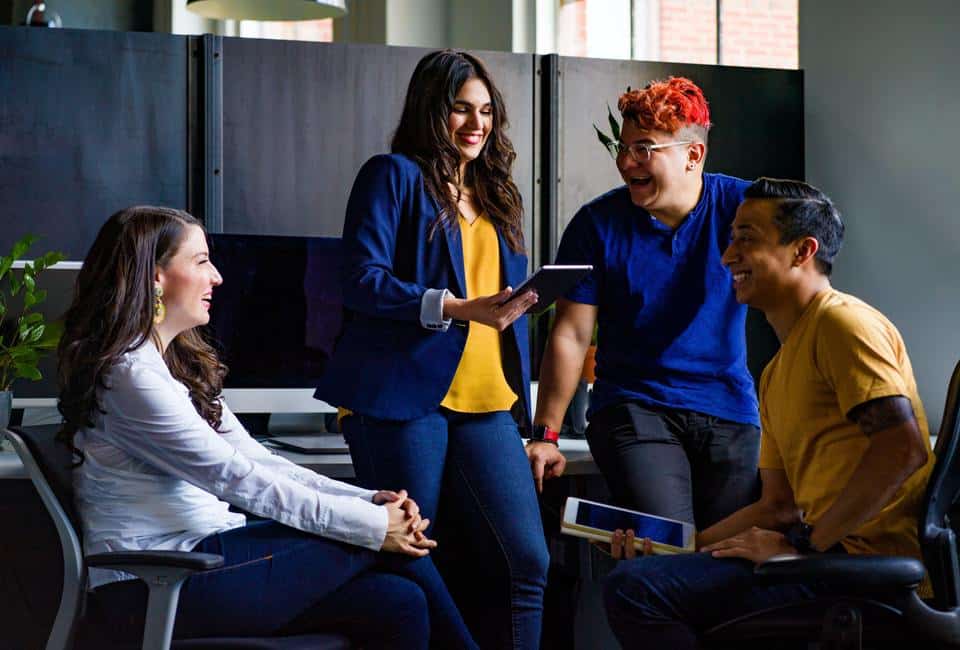 Attracting top talent is all about promoting your company as an 'employer of choice'.
Talent attraction is key to the success and growth of any business. It's important to attract highly skilled, like-minded candidates who can help your company go to the next level and thrive in new ways. Attracting top talent requires a well-executed recruitment strategy to get right, which begins before candidates have even set foot in your offices.
Here we explore our top five tips for attracting top talent to your company.
1. Build a company reputation that stands out
The first step to attracting the finest talent on the market is to ensure your company enjoys a stellar reputation as somewhere where candidates actually want to work. Your company could already boast a fantastic company culture, with unbeatable perks and a fabulous workplace environment. However, if no one knows about it then it's not benefitting your recruitment strategy. Invest in marketing that gets your brand out there among potential candidates. Whether it's the amazing team building events you organise or your remote working opportunities, tell the world about why working with your company benefits your staff's ambitions and lifestyles.
Remember that no one is a better ambassador for your company than your existing employees. Engage employees to share their experiences working for your company on LinkedIn and other networking platforms. You could ask star members of your team to write personal blogs about their journey with the company so far. Or record a short interview with them for more engaging content to share on your social channels.
2. Identify your target candidates
The truth is that even the most talented person for the job may not be the right fit for your company. At the end of the day, it's about finding top talent that aligns with your values, objectives, and work ethic. That's why it's important to identify the key characteristics that make your organisation tick and attracts certain candidates to you in the first place. You may not be the biggest or most well-known corporation out there. But understanding what your company has to offer candidates will allow you to pinpoint ideal candidates and show them what they stand to gain by working for you. By identifying your target audience, it will be easier to market job offers to the right candidates. This may result in less applicants overall, but it's guaranteed to connect in more meaningful ways, giving you a stronger shortlist to choose from.
3. Create a stellar candidate experience
Once you've established a strong reputation, it's important to maintain this ethos throughout your recruitment process. Everything from job descriptions and how you conduct interviews, should continue to show your company in the best light possible. When competing in the job market for top talent, every touchpoint a candidate has with your company is an opportunity to sell them on the idea that your company is the best place for their career to flourish.
This can be achieved several ways. Keep candidates up to date at every step of the process. Follow up on any emails and queries they send through. Be welcoming when they visit your offices for the interview stages. Another effective recruitment strategy is to have C-level execs show interest in candidates by attending interviews or sitting down with them for an informal conversation. This is a great way to blur hierarchical barriers and show candidates that they are on the radar of senior management who are happy to take time to get to know them on a personal level. This shows candidates that they aren't seen as just another number, but are already being treated as a valuable contributor towards the company's success.
4. Offer personal fulfilment
For top talent, a job is about much more than getting a pay cheque at the end of the month, no matter how competitive your salary offer is. They are looking to build a career, improve their skills and experience, and see that their work is making a vital impact. That's why it's important to show candidates that, with your company, their thoughts and decisions are encouraged and appreciated. Inviting candidates into the decision-making process will show them that their ideas matter to you.
Other incentives to promote candidate satisfaction include establishing a healthy work-life balance with an appropriate amount of holidays, flexi-time, and remote working opportunities if possible. Offering health insurance, funding for gym or wellness memberships, or investing in further education programmes are all great incentives that demonstrate your commitment to seeing candidates succeed on all fronts, in their personal lives as well as in their careers.
5. Promote career progression
One of the most common reasons candidates give for leaving their job is that they feel stuck or as if they have nowhere to progress further within a company. This will apply ten-fold to top performing candidates who invest a great deal of time and energy into their careers. That's why it's essential to set candidates up for success and progression from the get-go.
Attract top talent by carrying out professional development and mentorship programmes within your organisation. If your team already boasts a superstar within a particular field or discipline, encourage mentorship programmes so that they can share their expertise with younger recruits. This will create positive, stronger relationships within your teams and help reduce turnover. Such incentives will also act as a significant and enticing differentiator between you and your competitors, ensuring that you'll have more interest from top candidates wanting to join your organisation.
The Exacta Solutions team can help you find top talent for your company. Get in touch with us today to set your business on the path towards growth and success.